Changing the Air Filter in a Ducati SportClassic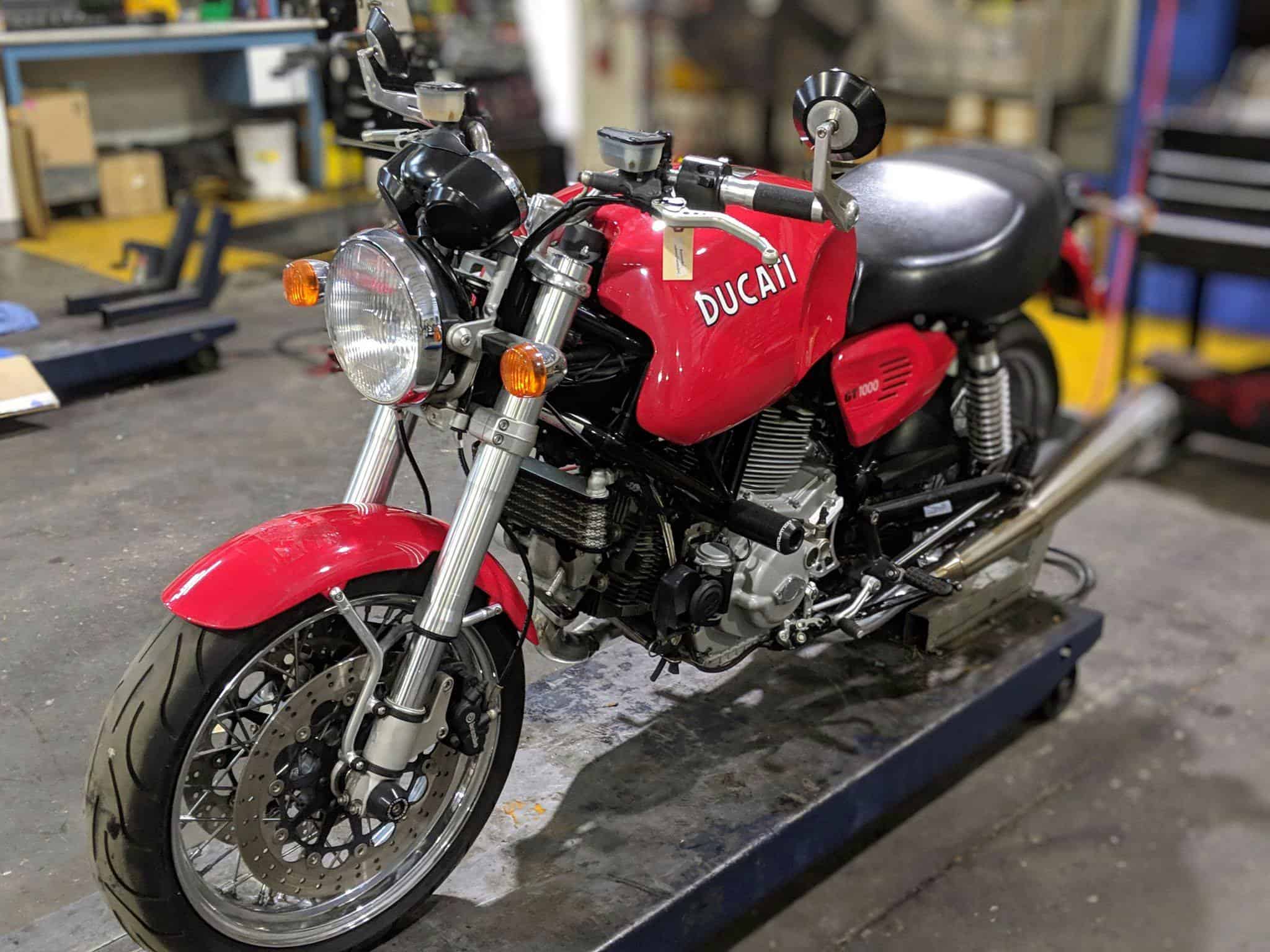 About the Ducati SportClassic
The Ducati Sport Classic is a tribute to motorcycle classics. The Sport Classic captures the essence of cool and the speed of a café racer, but with good handling and added comfort.4 Essentially, the motorcycle combines a nostalgic style with modern practicality. Its "new-retro" theme was designed after the 1973 Ducati 750 Sport and 750 Imola Desmo. Back in the day, motorcycle racers removed everything that was not absolutely necessary to the function of the bike to maximize speed and performance, and the SportClassic replicates this minimalistic design.1 This motorcycle was not designed for a comfortable weekend tour with cup holders, heated handle bars and a back rest, but instead it is really enjoyed best on short rides when you also might want to fit a quick workout into your day.
The Ducati Sport Classic sounds incredible and looks good enough to park in your foyer as Italian art. Surprisingly, the now sought after motorcycle did not get the love and appreciation that it deserved when it originally launched.3 Ducati was ahead of its time with the café racer theme and stopped production right around the time that retro became trendy in the mainstream motorcycle industry. Ducati launched the Classic 1000 in 2006, which ran until 2009, and the GT1000 was available from 2007-1010. Unfortunately production ended in 2010, as bikes sales were relatively low.2The Italian company also launched a period-correct Paul Smart Limited Edition version of the SportClassic, which comes with a retro front fairing. This special edition motorcycle was inspired by Paul Smart's race motorcycle from 1972.
The Ducati SportClassic has 992 cc and 92 horsepower, but it only weighs 398 pounds dry.1 It is an air-cooled, six-speed with a top speed of 135 miles per hour.1 The SportClassic deserves a lot of T.L.C., so regular maintenance is a must to keep the bike in good condition and running smoothly for years to come.
Where do you find used motorcycle parts for a used bike that had a relatively short production? Florida. Sun Coast Cycle Sports to be exact. Sun Coast Cycle Sports carries all of the used motorcycle parts that you will need for your Ducati SportClassic. Plus, they have provided a how-to video to help you to replace your air filter.
Need some help? Take a look at the tutorial below that provides detailed instruction on how to replace the air filter on the Ducati SportClassic.
How to replace the air filter on the Ducati SportClassic:
Step 1 – Secure the bike.
Make sure that the bike is upright and secure the bike using a bike stand or tie downs. Always disconnect the battery before performing maintenance. Make sure your work area is clean.
Step 2 – Remove the seat.
Remove seat with the key. Insert the key into left side keyhole under seat and rotate counter clockwise to release seat lock.At the same time, pull seat upwards to remove.
Step 3 – Disconnect fuel pump.
It's important to ensure that no power is being fed to the fuel pump. Start by locating the black connector that is fed up to the tank.Once located, grab the female and male ends of the terminal, lift up the locking tab and pull apart with light force.
Step 4 – Unbolt rear of tank.
After fuel pump is disconnected, locate the bolt that secures the rear of the fuel tank and remove the bolt with a ratchet Place screws in a small container or magnet tray (old Tupperware works great).
Step 5 – Lift tank for access.
Once removed, lift rear portion of the tank and shift slightly towards rear with light force. Lift tank for access to the fuel line.
Step 6 – Disconnect fuel line.
While the tank is lifted, disconnect both fuel lines by pinching the locking clips and pulling down with force (excess fuel may spill out, be sure not to drip any fuel onto painted surfaces).
Step 7 – Remove vent lines.
Remove the two fuel tank vent lines by pinching the clamps with a pair of needle nose pliers and pulling them down, working the two vent hoses off of the vent nipples.
Step 8 – Remove tank toward rear.
Now the tank should be free.Pull the tank upwards and towards rear to remove. As you are lifting the tank, check that no lines or harnesses are caught. The tank should remove completely.
Step 9 – Unfasten bolts from cover.
Now you should have access to the intake air box. Locate the six bolts access cover screws and remove bolts from cover with a ratchet. Place screws in a small container or magnet tray.
Step 10 – Separate cover.
The cover should be free. Separate the cover and set aside.
Step 11 – Pull our air filter.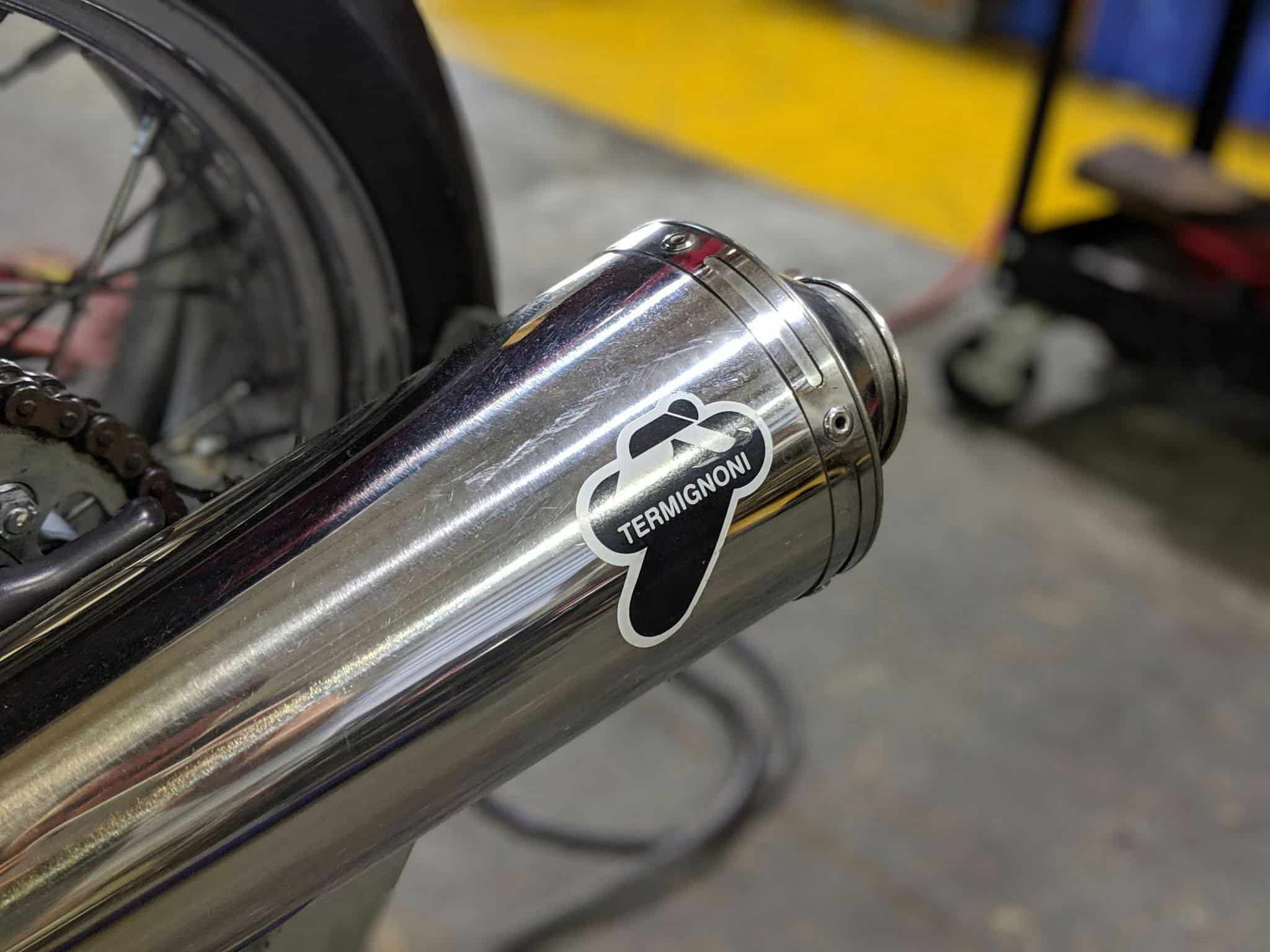 You now have access to the air filter element. Remove old air filter element and discard. Take note of how this filter was removed. Now is a good time to clean excess dust out of the inside of the air intake box with a microfiber cloth.
Step 12 –Install new air filter.
Install new air filter element the same direction that the used filter was removed.
Reassemble by working in reverse.
Need other Ducati parts? Visit Sun Coast Cycle Sports.
References:
1. Biker, Maxx. "2009 Ducati SportClassic 1000S." www.topspeed.com, 23 June, 2009. https://www.topspeed.com/motorcycles/motorcycle-reviews/ducati/2009-ducati-sportclassic-sport-1000-s-ar75887.html
2. Urry, Jon. "Bike of the Day: Ducati SportClassic." www.motorcyclenews.com, 20 March, 2018. https://www.motorcyclenews.com/promos/2018/ducati-sport-classic-sport-motorcycle/
3. Bruhlman, Lianna. "The Ducati SportClassic – the café racer ahead of its time." www.classicdriver.com, 3 March, 2013. https://www.classicdriver.com/en/article/bikes/ducati-sportclassic-cafe-racer-ahead-its-time
4. "2008 Ducati SportClassic Review." www.motorcyclistonline.com, 19 March, 2013.