Whether you find yourself in your later years, looking for something fun to drive on the weekends, or in a midlife crisis, in desperate need of something cool to raise your self esteem to make you feel young again, (relax, we've all been there) there is one vehicle that has been turning heads for a few years now that could be worth your time. Enter the Polaris Slingshot.
I'm sure you have seen one before, on the road or even on TV. They look cool, but also funky. They raise questions, but also don't demand answers. If you are in my position, you must be asking yourself the same question, "those look cool! But are they practical? Worth the money? Safe?". These are real questions. Considering new Slingshots go for around 30,000 dollars, or in other words, the same cost of a brand new fully loaded 1998 Ford Windstar, it might seem like the value just isn't there.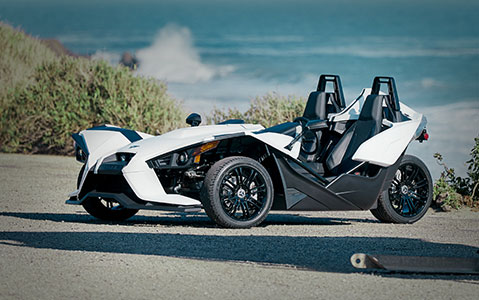 However, the used Slingshot models go for much less. You can get a model no more than a few years old for half the MSRP price. That's right, for 15,000, you can get a used 2016 model with 2,000 miles on it. You can also get used Slingshot models as low as $12K, which gives the Slingshot a great bargain appeal. Which means I wouldn't buy one new, because there is obviously a lot of overhead there. Is 15,000 worth it though? Let's dive in and find out.
Let's start off with the exterior and outside looks. At first glance, the Slingshot looks unlike anything you've ever seen before. It almost resembles a spaceship. This look turns heads. It will turn heads when you are driving it, and expect people to flock around it when you park it in the Starbucks parking lot during your pumpkin spice latte runs. The Slingshot will garnish the attention it deserves. Here at Suncoast, we get them in for used Slingshot parts and even when they are wrecked, still demand the attention of the room.
Most of the exterior is made from plastic paneling. This is a letdown, but when you really think about it, it makes sense. Why would something this small need to be weighed down more? At 1700 pounds, it won't take much to get this thing moving. The plastic also makes the Slingshot weatherproof, as KBB tested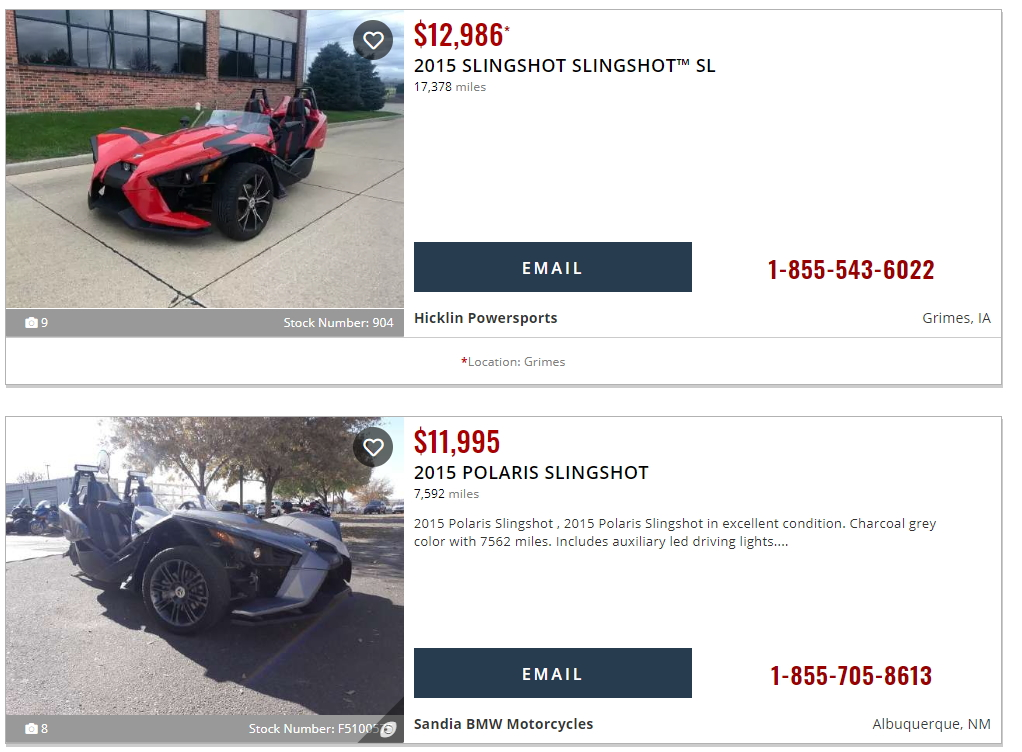 when they took one through a car-wash. (Which I don't recommend trying at home)
Most of the components are Frankensteined from different companies. The motor being GM, with most of the other parts ranging from Audi to Volkswagen. Polaris is not a car company, so it makes sense they would find a variety of parts from the lowest bidders. This doesn't take away from the Slingshots appeal however, if I hadn't told you, you probably wouldn't have noticed.
Is the Slingshot fast? I mean, heck yeah. For what you see, and the lightweight chassis of the vehicle, it is very quick. The Slingshot is powered by a 173 horsepower engine with a manual transmission. 0-60 in 6.5 seconds may not make your mouth water, but the Slingshot isn't meant for speed. It's meant for fun.
The Slingshot has a few flaws with its design. The blind spots will take getting used to, and some of the other designs need work, like the windscreen and mirror placement. But let's be honest, this isn't why you are interested in one. You are interested for one reason only, because you heard it is fun to drive, and boy is it ever.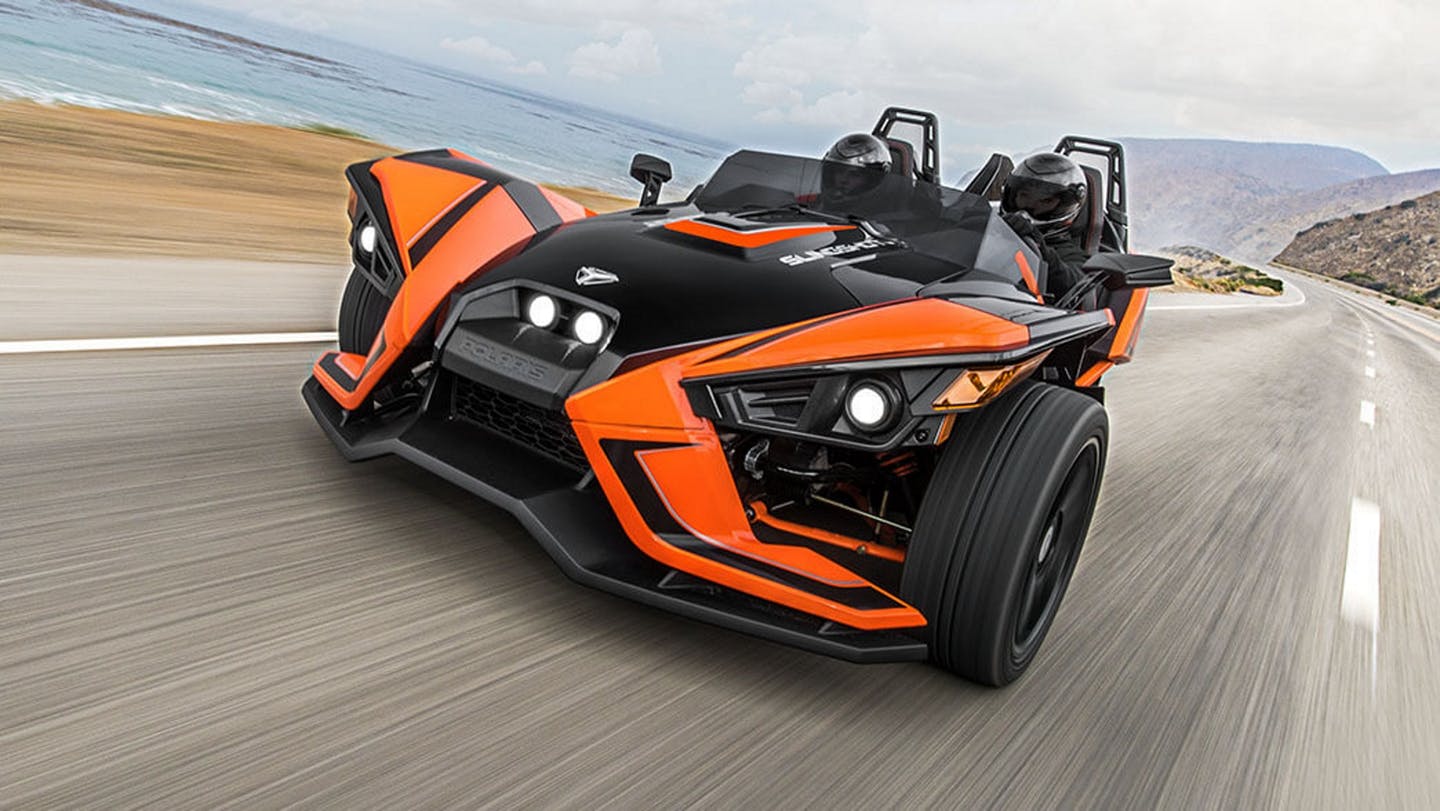 The Slingshot grips the road like nothing you've driven in before. It's a beach cruiser, one for you and the Mrs. to go wherever you like, and have a blast getting there. Every review and critic will tell you the same thing. There isn't a lot of practicality or sense in this model. Why was it even made? Who is it for? One thing for certain, the Slingshot is an absolute blast to drive.
So is it worth 15,000? Let's compare. If you are looking for a motorcycle substitute, there are plenty of things to like. The average used motorcycle costs about 10 grand, so you might save some money there, but your also only getting two wheels, no bucket seats, and way less safety. So if your concern is there, the Slingshot is well worth the extra five thousand. Also, the Slingshot comes with a 2 year unlimited mile warranty, so if you get a used one with the warranty still on it, it's a major plus.
There is no way to know if the Slingshot will hold its value, since the first model was only in 2015, but we do know however that if parts are eventually needed, they are not as expensive as you would think. Sun Coast Cycle Sports has used Slingshot parts for very reasonable prices, so worry not if you purchase one and it needs repairs.
There aren't too many used cars you could buy at this price point either that reflect the experience. Mazda Miatas that range around $15,000 this year have over 30,000 miles on them, where as the Slingshot will have two to four thousand. The value is there.
If you are on the fence about purchasing a Slingshot, we definitely recommend used. With only a few thousand miles on them, along with the sure adrenaline rush of driving them, it is well worth the money for a weekend car. You will turn heads as you reconnect with your younger self, feeling that sensation of freedom on the open road.
In the event that your Slingshot does one day need repair, always remember to check us out first for the best used Polaris Slingshot parts.